Wedding Planner Must-Haves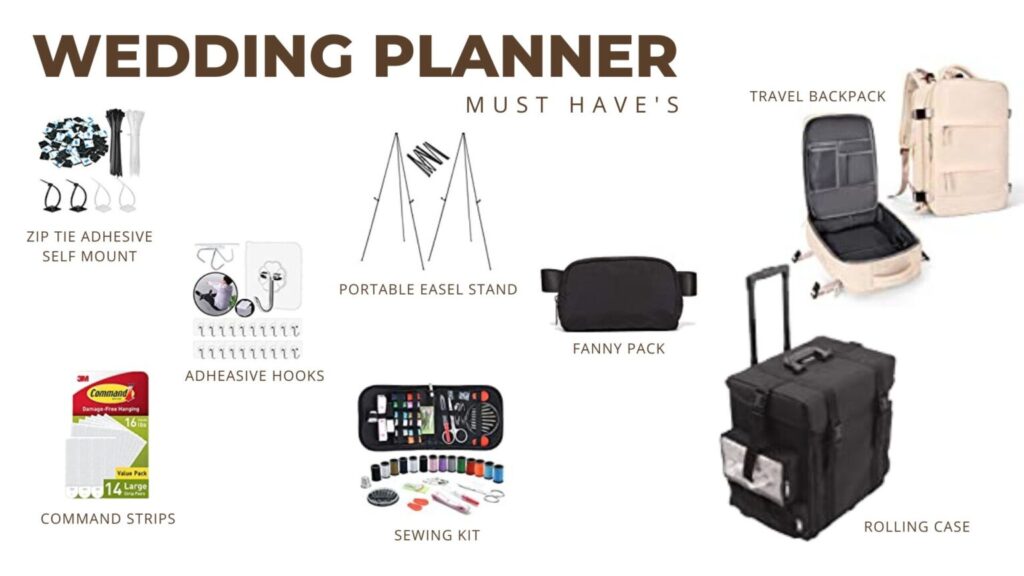 Calling all planners! Prepping for any event can require hours of packing and restocking. So here are some tips and must have to keep you organized and ready for every occasion.
Let's start with what guests might see: a welcome sign. Easily rattled by wind or lack of weight, welcome signs can be the first impression but go south if not staying in place. Reduce all welcome sign worries with these zip tie adhesive self mounts. You mount the adhesive to the back of materials such as foam board, acrylic, and wood. Then file the zip tie through and over the back of the portable easel stand. Your sign will now be able to stay in place.
For planners who are always on the go, this large travel backpack is for you! Pack your laptop and binder in one pocket, and have your change of shoes in a separate area with an insulated water bottle and cushion on the back. Then when you're on the go, adapt and put the necessary items, such as a phone, timeline printout, pen, and scissors, in your fanny pack.
Now for the planner and team. Traveling to and from various locations using a rolling case like the one pictured above can be a huge time saver! Organized with several compartments, this professional bag will allow you to easily label and separate all items. Some of our favorite products we keep restocked are adhesive hooks, great for various surfaces and weights, and a sewing kit for any material hiccups.
Zip Tie Adhesive Self Mount
Adhesive Hooks
Rolling Case
Large Travel Backpack
Fanny Pack
Sewing Kit
Portable Easel Stand